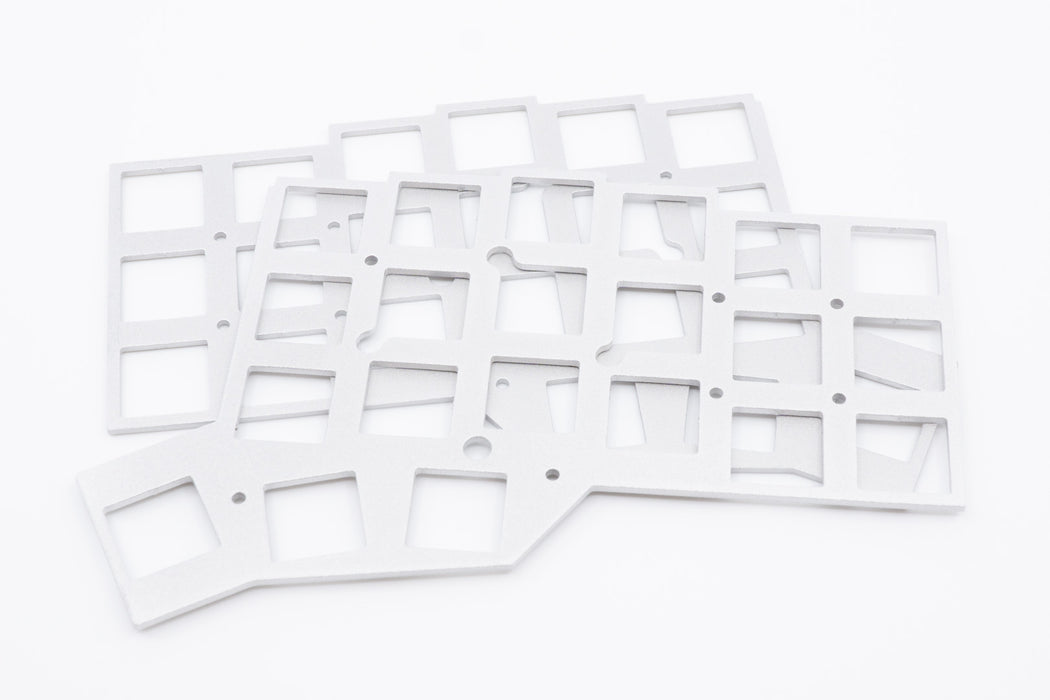 Aurora Corne Low Profile Case
Save up to

0

%
Save %
Original price
€3,26
-
Original price
€18,97
Current price
€22,95
€18,97

excluding sales tax
List price includes 21% Dutch sales tax. It will be adjusted to
your local tax rate
during checkout.
Complete your Aurora Corne kit with a variety of case options. All options on this page are low profile, and consist of a set of top plates, a set of bottom plates, and a hardware set.
All case options are compatible with all switches supported by the Aurora Corne, so it's compatible both with MX and Kailh Choc switches.
Most acrylic case options are cut on order, and will be fulfilled within one to three business days.
How to choose
Pick a set of top plates. If you're using hot swap sockets, don't pick acrylic top plates, as they're too thick to retain the switches.
Pick any set of bottom plates. If you'd like to use a set of tenting pucks, pick a set of puck plates, as they'll have the cutout required to fit a puck.
Pick any set of OLED covers. The OLED is still visible with a tinted cover, while it does a better job of hiding other components. The clear cover keeps everything visible.
Lastly, add a set of mounting hardware. This isn't included by default (so you can choose multiple sets of plates without having to get a lot of extra hardware).
Hardware kit
The hardware kit includes mounting hardware compatible with all Aurora Series low profile cases, and may include some additional hardware you won't need for this specific kit. Every hardware kit contains:
16 × 6mm brass M2 spacer
16 × 8mm brass M2 spacer
10 × 12mm brass M2 spacer
48 × 5mm metal M2 screw
12 × Adhesive rubber bump-on
Specifications
Acrylic plates in the various colors are 3mm thick, with a tolerance of +-0.7mm (though will usually fall within +-0.3mm).
FR4 material plates are 1.6mm thick and are finished with ENIG (nickel coated with gold).
Aluminium plates are 1.5mm thick and have a bead blasted finish. They're lightweight, but very sturdy.
For the hardware kit, the spacers are brass-colored metal. The screws are silver-colored.
Remarks
If you're using a kit that supports hot swap sockets, or plan to use a kit in which you hot swap your switches, do not get a set of acrylic top plates. Switches will not clip into the acrylic plates, as these plates are too thick. They're fine to use on hand solderable builds, but it'll be a frustrating experience to use them with hot swapped switches.
Of course, bottom plates don't have anything to do with switches and hot swapping, so those are always fine to use.

If you're unsure whether you want to use the tenting pucks, you can always get a set of normal plates along with your kit. They'll remain available for purchase, so you can always swap them out later, too. Similarly, if you're not using a puck now, you can upgrade later and get a set of puck plates with your puck.