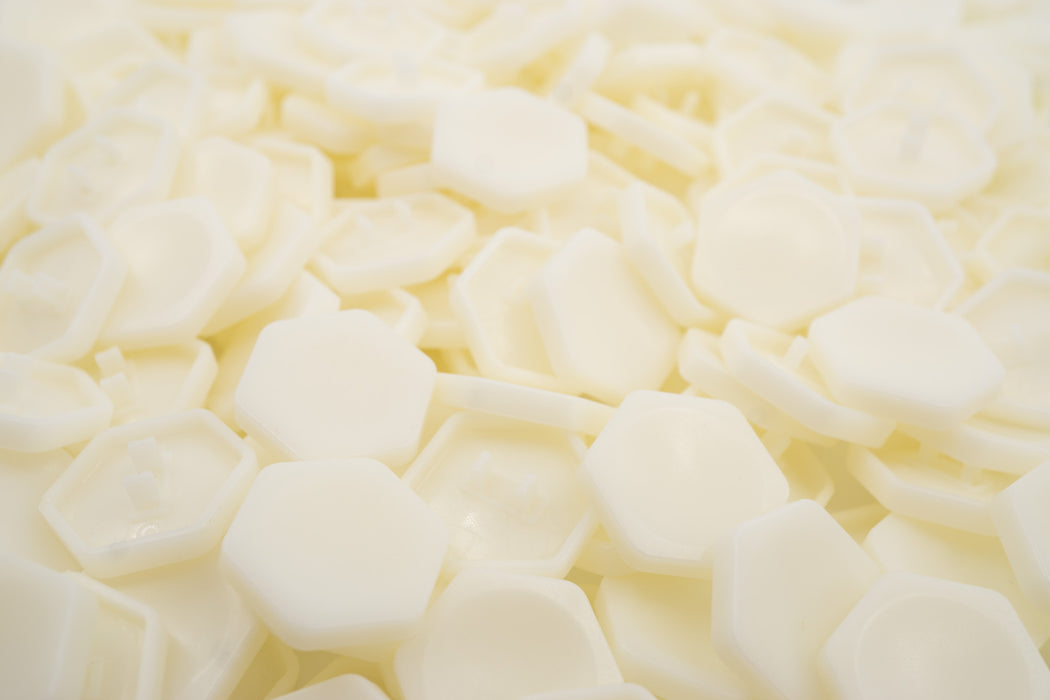 Hex Keycaps
Save

0

%
Save %
Original price
€4,54
-
Original price
€4,54
Current price
€5,49
€4,54

excluding sales tax
List price includes 21% Dutch sales tax. It will be adjusted to
your local tax rate
during checkout.
Designed by s-ol, these hexagonal keycaps are quite unconventional! They're the result of experimenting with the creation of a music keyboard. Its unique shape and size require specific Hex-compatible PCBs, and allow to switch from a row to column stagger by a single 30 degree rotation.
Made of ABS material, these keycaps will feel smooth to the touch while providing the necessary feedback. They are translucent, allowing keyboards with per-key RGB to shine to their full potential.
This keycap is made to fit Kailh Choc low profile switches. All Kailh Choc switches sold at splitkb.com are compatible with these keycaps. Do mind, you'll need a special keyboard to fit these keycaps. A datasheet is available.
One bundle contains 10 keycaps.
Technical specifications
Material: ABS
Profile: Hex
Size: 1U
Colors: White, partially translucent
Compatibility: Compatible with Kailh Choc v1 (Kailh 1350 series) switches
Spacing: Spaced 21.5mm apart, measured between the keycap centers. Check the datasheet for exact spacing.
Dimensions: 20.96mm between any two opposing sides, sides measure 12,1mm each, total height including the stem is 6,2mm (and sticks out 2,6mm above the switch stem).
Weight: Approximately 0.75g
Remarks
These keycaps are ideal to make a unique macropad or keyboard with. You can use the datasheet above as the basis of your design. There will be hex-compatible kits in the future, designed by s-ol and others. Why not create your own in the meantime?