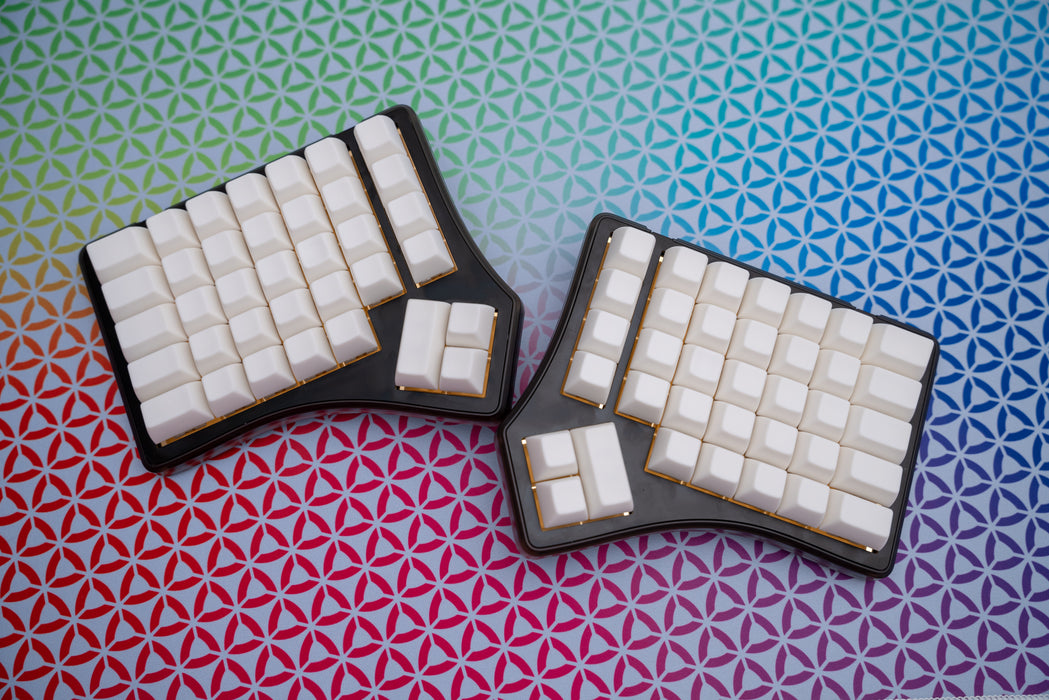 SA-P Stratus Keycaps
Sold out
Original price
€74,34
-
Original price
€74,34
Current price
€89,95
€74,34

excluding sales tax
List price includes 21% Dutch sales tax. It will be adjusted to
your local tax rate
during checkout.
RGBKB is known for their high-tech keyboards which glow brightly with RGB. To highlight those colours, they have collaborated with Signature Plastics to bring you the first keyset in "UP" Natural PBT: SA-P Stratus!
Named after stratus clouds, natural PBT has a hazy white color, and glows nicely uniform when installed on a keyboard with bright RGB backlighting.
The profile is SA-P: a textured SA in PBT. The sculpt is 1-2-3-4-4. Spacebars are concave, and two homing keys are included.
Supported keyboards
The keyset has 1 kit, focused on ergonomic keyboards. It supports, among many others, the following: Zen, Sol, Zygomorph, Mün, Pan, Kyria, Ergodox, Ergodash, Ergotravel, Iris, Atreus42/62, Corne, Boardwalk, Boardrun, and all 1u Ortholinear boards up to 12x5.
Technical specifications
Material: natural PBT
Profile: SA-P
Sculpt: 1-2-3-4-4
Contents:

R1 1U × 12
R2 1U × 12

R3 1U × 16
R4 1U × 24
R1 1.5U × 2
R2 1.5U × 2
R3 1.5U × 6
R4 1.5U × 4
R3 2U × 4 (concave)
R3 1U homing × 2 (dish)

Packaging: Grip bag

Manufacturer: Signature Plastics, made in the United States
Vendors
We are the European proxy for this group buy. You can also get this product from the US vendor, RGBKB.
Remarks
For the keycaps to shine, your keyboard will need to support RGB backlighting. Many keyboards support underglow, which is not the same - underglow will light up the bottom of your keyboard, while backlighting will light up your keycaps.
The product name is often misspelled as Stratos.