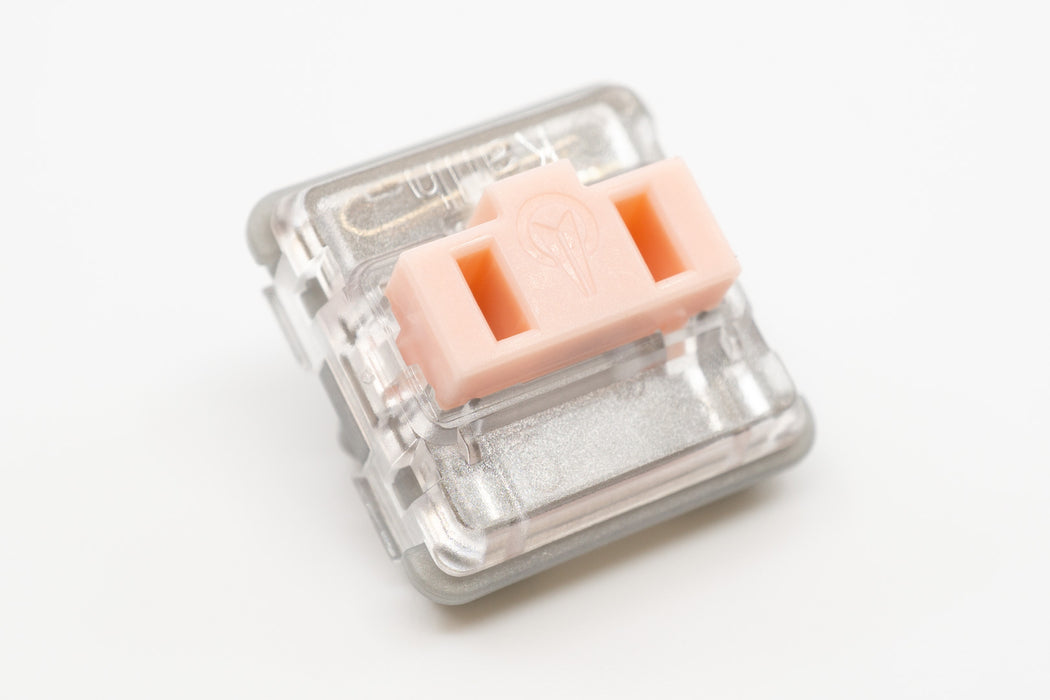 Kailh Low Profile Choc Switches
Save up to

0

%
Save %
Original price
€0,82
-
Original price
€5,61
Current price
€0,99
€0,82

excluding sales tax
List price includes 21% Dutch sales tax. It will be adjusted to
your local tax rate
during checkout.
Kailh Choc switches are low profile, ideal for builds that focus on achieving a low height and for keyboards you'd like to take with you on the go.
Switches by Kind
Below are all choc switches we sell, listed by their kind and sorted by weight.
In general, lighter switches are more suitable for chording (pressing multiple keys at the same time), but do make it easier to press them by accident. Heavier switches are harder to press, which can be satisfying but may be more straining over time.

Linear Switches
Linear switches have a linear curve: when pressing down the switch, there are no bumps or variances in force required to press it further.
Pink (20gf, Linear, a recolour of Light Blue)
Light Blue (20gf, Linear, also known as "gChoc", discontinued at splitkb.com)
Purple (25gf, Linear, also known as "Purpz")
Pro Red (35gf, Linear)
Crystal Red (35gf, Linear, 3 pins)
Silver (40gf, Linear)
Red (50gf, Linear)
Black (60gf, Linear)
Dark Yellow (70gf, Linear)
Tactile Switches
Tactile switches have a bump in their curve: around their actuation point, you'll feel a difference in force so you can feel when a switch has actuated.
Clicky Switches
Like tactile switches, these have a bump in their curve. Next to that, they make a distinct clicky sound, so the feedback is also audible. Of the switches below, the Jade and Navy switches are loudest, the Robin and Pale Blue noticeable, and the White is relatively subtle.

White (50gf, Clicky)
Jade (50gf, Clicky, thicker clickbar than White)
Robin (60gf, Clicky, gold plated springs)
Navy (60gf, Clicky, thicker clickbar)
Pale Blue (70gf, Clicky)
Specifications
All Choc switches actuate at a travel of 1.5mm and have a total travel of 3mm. All switch forces are expressed in gram-force, and fall within a tolerance of ±10gf.
Remarks
Kailh Low Profile switches are only compatible with keycaps that are made for them. They are not compatible with other keycaps, for example those for MX switches.
All Kailh Low Profile switches have five pins: the two metal switch pins, a center post and two side posts which are part of the bottom housing. Only the Crystal Red switch lacks the side posts, and thus is a three-pin switch.

Side posts can be clipped using flush cutters if the keyboard doesn't support side posts. These days, most keyboards do support side posts.
Side posts give some extra stability and alignment to switches, which is useful when hot swapping switches and when using a keyboard without a case.