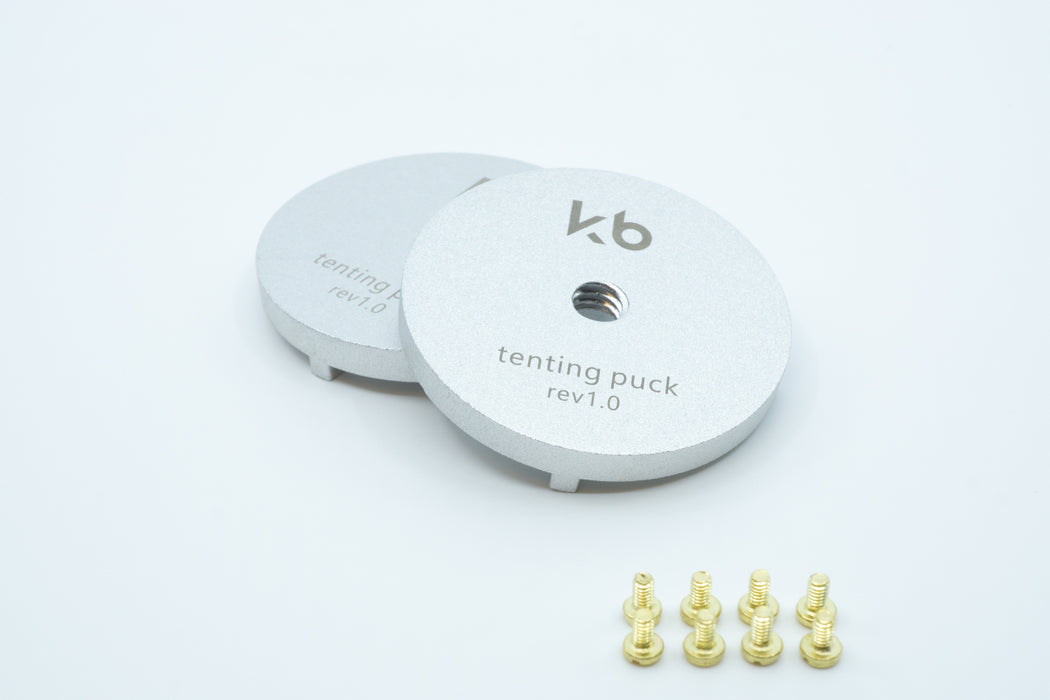 Tenting Puck
Save

0

%
Save %
Original price
€16,52
-
Original price
€28,88
Current price
€34,94
€28,88

excluding sales tax
List price includes 21% Dutch sales tax. It will be adjusted to
your local tax rate
during checkout.
Some people prefer to use their keyboard laid flat on a table, others prefer to use it at an angle. While there are some do-it-yourself solutions out there, there wasn't yet a solution that proved to be both reliable, flexible and portable. Enter the tenting puck: an accessory that attaches to your splitkb.com keyboard which can be used together with any camera tripod to tent and tilt your keyboard exactly how you want it.
Specifications
Bead blasted, anodized aluminium makes for a long-lived lightweight part that look stylish to boot.
Features a 1/4th inch threaded tripod mounting hole, allowing to make use of a vast selection of widely available camera tripods.
Low profile doesn't add to the height of the case, allowing you to use your keyboard both tented and untented, making it portable.
Compatible with Kyria rev1.3 and future splitkb.com keyboards.
Every puck comes with four M2 4mm screws to mount it to a compatible keyboard PCB.
Accessories
The puck is compatible with the Kyria rev1.3 and requires a compatible top plate (with four additional holes, already sold with Kyria rev1.3 cases) and a compatible bottom plate which is available for purchase separately.
You can use most camera tripods with the puck. A good example which we recommend to start out with is the Manfrotto Pocket Tripod.
Remarks
The Kyria and all kits in the Aurora Series are compatible with the puck, as well as several open source kits.
Future splitkb.com keyboards will be compatible with the puck. Future keyboards sold at splitkb.com that aren't designed by splitkb.com might be compatible, but will list compatability on their respective product pages.
Want to add puck compatibility to your own PCB? Find the footprint and drill template over at Github.
Read More